Enterprise-ready Kanban Component
We are happy to share with you that our Smart UI 7.4.0 release, brings a new Kanban UI component. Demos are available for both Web Components & Angular here:
https://www.htmlelements.com/demos/kanban/overview/
and
https://www.htmlelements.com/angular/demos/kanban/overview/
Kanban represents a UI component for mapping and visualizing each step of your process as a flow. The Kanban is usually named after the project you are assigned to work on. Every Kanban has three main sections that show the state of your tasks in the flow:

- To Do - the area where you place the work that you plan to work on next.
- In Progress: when you start working on a particular task/card, you have to move it to "In Progress".
- Done: when the task is completed -> move it to Done.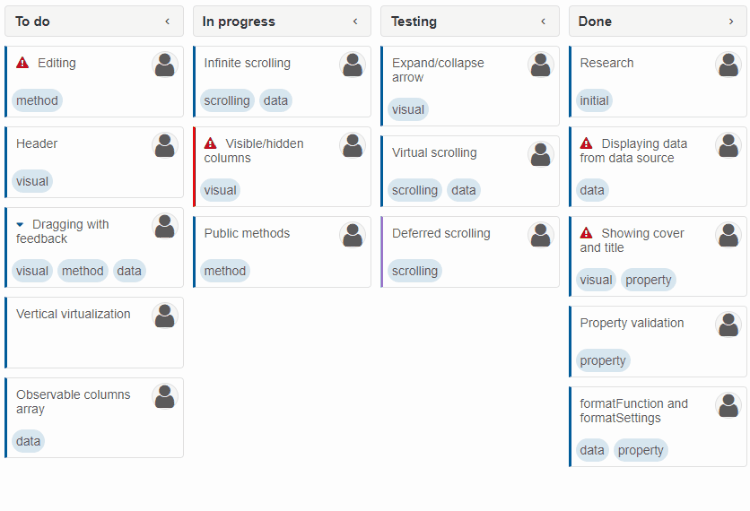 Some of the Kanban features are:
Kanban Columns collapse
Kanban Card comments
Kanban User Privileges
Kanban Card Switch Users
Kanban Tasks progress
Kanban Tasks templates
Kanban Editing
Kanban Sorting
Kanban Filtering
Kanban Swimlanes
Kanban Horizontal Orientation
Kanban Hierarchical Tabs
Kanban multiple components with drag & drop
Kanban State maintenance
Kanban Drag and Drop of multiple cards
Kanban Keyboard navigation
Kanban Export to Excel & PDF
Kanban Right to left layout
Kanban Accessibility