Create your own Modern Mobile-first Custom Elements or use our Framework Agnostic UI Toolkit
What is Smart?
Framework similar to Polymer and based on Javascript, HTML and CSS which allows you to create your own Custom Elements.

The Framework's default class is called Smart.BaseElement. The Smart.BaseElement class extends the native HTMLElement class adding additional features like:

Data Binding
Reactivity System
Cross-Browser and Device compatible event system
Event Routing
Style Change Notifications
Resize Notifications
Browser and Device detection API
Property Type detection API
Observable Objects
Observable Arrays
Localization
Property Change notifications
Typed properties
Templates
Property Bindings
Nested Elements with Automatic Property and Event Bindings
Automatic Event Listeners and Memory Leak resolutions
Lifecycle callbacks
Date and Numeric API for Engineering and Scientific Apps
Conditional Formatting API a.k.a. MS Excel
Data Export to Excel, CSV, TSV, HTML and PDF

Visit: https://www.htmlelements.com/docs/base-element/ for additional details about it.




Create Custom Element


 Smart('smart-hello', class SmartHello extends Smart.BaseElement {   
  // Declare properties  
  static get properties() {   
   return {  
    'name':   
     {  
       value: 'World!',  
       type: 'string'  
     }  
   };  
  }  
  // Define a template  
  template() {  
    return '<p>Hello, <span>{{name}}</span></p>';  
  }  
 });  





UI Toolkit with 60+ Web Components & Custom Elements including Grids, Charts, Gantt, Layouts, created by our Team. All Web Components are designed from ground-up and based on a powerful framework core.



Works across devices and browsers
Smart is mobile-first UI Framework written in Javascript Ecmascript 6(ES6), HTML5 and CSS3. Smart targets only modern Web browsers and devices.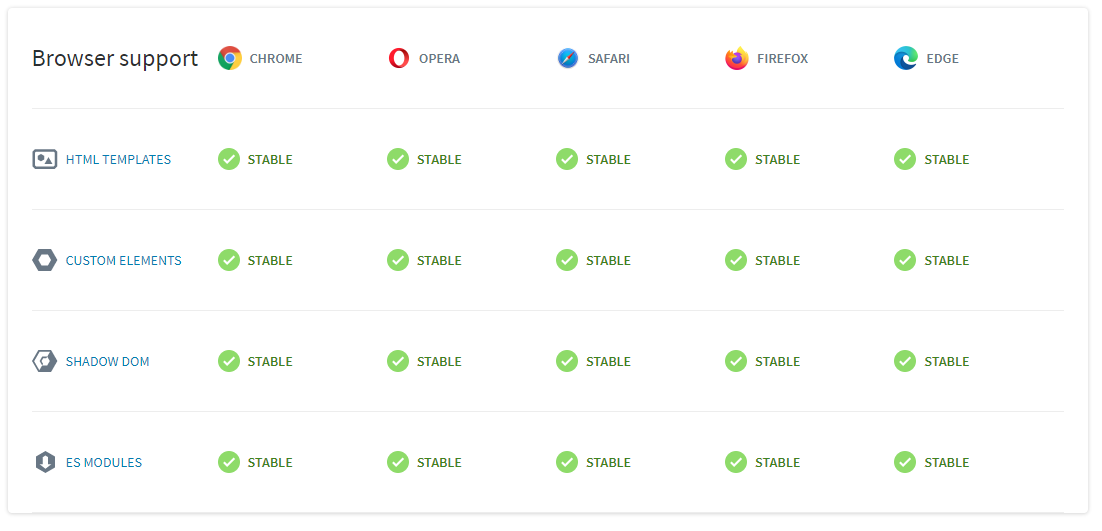 Download and Installation
Download Smart HTML Elements - The .zip download contains source files and demos.
npm i smart-webcomponents-community - Free Community version source files.
npm i smart-webcomponents - Enterprise(Professional) version source files.
npm i smart-webcomponents-angular - Enterprise(Professional) for Angular version source files
The SDK files are located in the source directory

In general you need to use files from this directory only.



Files list & description:


Files required in all projects using the SDK

smart.element.js: Smart HTML Elements framework
source/modules/smart.[component].js: Smart Web Component
angular/[component]: Smart Angular Module
Stylesheet files. Include at least one stylesheet Theme file and the images folder:
styles/smart.default.css: Stylesheet for the default Material Theme. The smart.default.css file should be always included in your project.
styles/images: contains images referenced in the stylesheet files

Files for elements. Include depending on project needs:

smart.elements.js: Commercial Custom Elements
smart.[component].js: Import in your project

Examples

Individual Web components examples are located in the /demos folder.

Documentation

Browse the documentation online: https://www.htmlelements.com/docs/

Other files

The /scripts, /images, /styles folders contain the files used by the demos only.